There are many word document processor available for creating math documents. Microsoft Office Word 2010 is one and is higly commercialized software. This is a WYSISWYG program that makes typing of math formulas and equations very easy and comfortable.
If you are good with Latex, then there are a lot of typesetting document tools that are free and with unlimited functionalites. These are open source program licensed under the GNU. But Maple and Scientific workplace are the most sophisticated math word processor that I have known so far.
LyX is a document processor that encourages an approach to writing based on the structure of your documents (WYSIWYM) and not simply their appearance (WYSIWYG).
LyX combines the power and flexibility of TeX/LaTeX with the ease of use of a graphical interface. This results in world-class support for creation of mathematical content (via a fully integrated equation editor) and structured documents like academic articles, theses, and books. In addition, staples of scientific authoring such as reference list and index creation come standard. But you can also use LyX to create a letter or a novel or a theatre play or film script. A broad array of ready, well-designed document layouts are built in.
LyX is for people who want their writing to look great, right out of the box. No more endless tinkering with formatting details, "finger painting" font attributes or futzing around with page boundaries. You just write. On screen, LyX looks like any word processor; its printed output — or richly cross-referenced PDF, just as readily produced — looks like nothing else.
LyX is released under a Free Software/Open Source license, runs on Linux/Unix, Windows, and Mac OS X, and is available in several languages.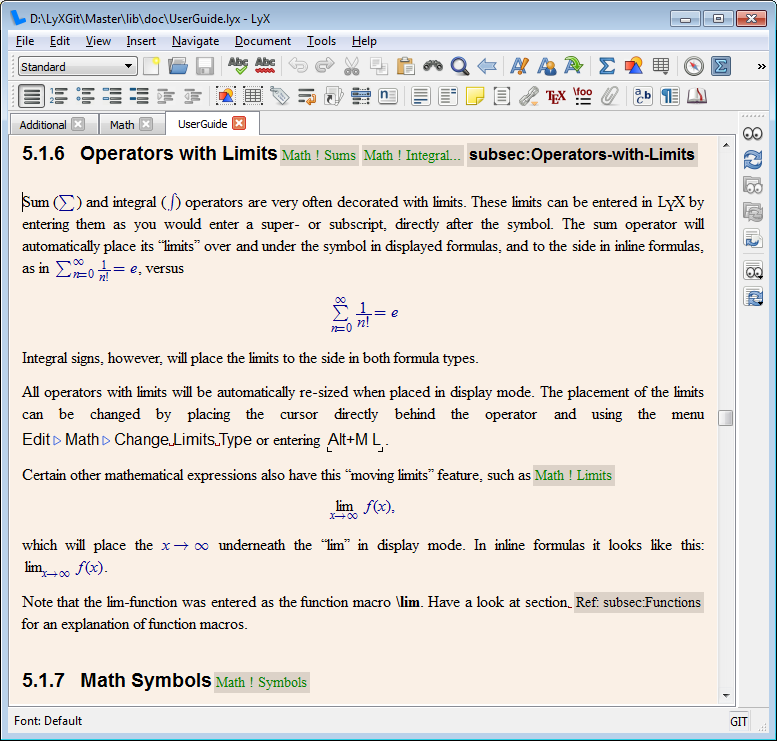 GNU TeXmacs is a free wysiwyw (what you see is what you want) editing platform with special features for scientists. The software aims to provide a unified and user friendly framework for editing structured documents with different types of content (text, graphics, mathematics, interactive content, etc.). The rendering engine uses high-quality typesetting algorithms so as to produce professionally looking documents, which can either be printed out or presented from a laptop.
The software includes a text editor with support for mathematical formulas, a small technical picture editor and a tool for making presentations from a laptop. Moreover, TeXmacs can be used as an interface for many external systems for computer algebra, numerical analysis, statistics, etc. New presentation styles can be written by the user and new features can be added to the editor using the Scheme extension language. A native spreadsheet and tools for collaborative authoring are planned for later.
TeXmacs runs on all major Unix platforms and Windows. Documents can be saved in TeXmacs, Xml or Scheme format and printed as Postscript or Pdf files. Converters exist for TeX/LaTeX and Html/Mathml.
GNU TeXmacs is hosted by the Centre de Ressources Informatiques de Haute Savoie, Archamps, France.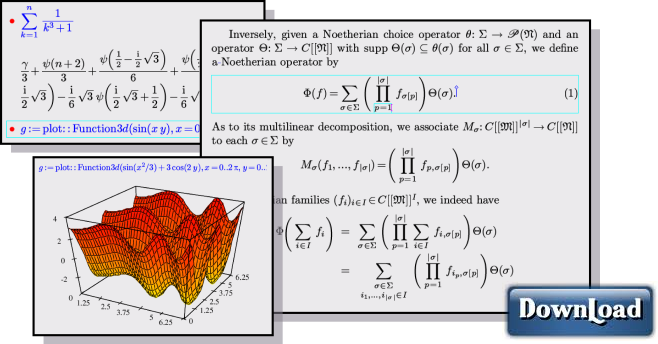 TeXstudio is an integrated environment for writing LaTeX documents.
TeXstudio, previously TexMakerX, is a platform-independent LaTeX editor with included PDF viewer. It provides modern features like interactive spell/syntax checking, code folding, extended text navigation, code completion and syntax highlighting.
Texmaker is a free LaTeX editor, that integrates many tools needed to develop documents with LaTeX, in just one application. Texmaker includes unicode support, spell checking, auto-completion, code folding and a built-in pdf viewer with synctex support and continuous view mode. Texmaker runs on Linux, MacOSX and Windows systems and is released under the GPL license.
Texmaker is a free, modern and cross-platform LaTeX editor for linux, macosx and windows systems that integrates many tools needed to develop documents with LaTeX, in just one application.

Texmaker includes unicode support, spell checking, auto-completion, code folding and a built-in pdf viewer with synctex support and continuous view mode.

Texmaker is easy to use and to configure.
Texmaker is released under the GPL license .
TeXnicCenter is a feature rich and easy-to-use integrated environment for creating LaTeX documents on the Windows platform. Its powerful editor and its tight integration with the LaTeX environment helps you to concentrate on what matters: The content of your document. TeXnicCenter is Free Open Source Software (GPL).
Though the text editor is the center of TeXnicCenter, the full power comes from its tight integration with the other components involved in the process of writing, building and viewing LaTeX documents. With TeXnicCenter you get a central user interface that allows you to control all the other tools. And all this packeted in a comfortable and modern user interface. TeXnicCenter has been downloaded more than 1,000,000 times and is the best choice for LaTeX authors working on the windows platform.